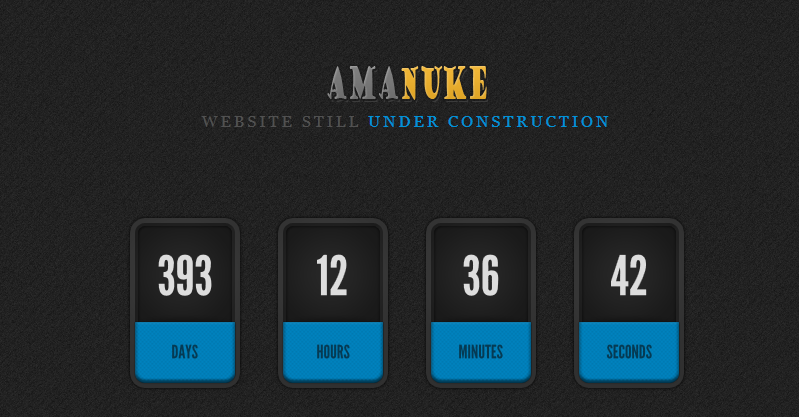 Amanuke is new Under Construction / Work in Progress HTML template to show the progress of your web development.
It use countdown timer and circle progress bar to show how many percents in days the launching date.
It use social icons for contact , ajax subscribe form and ajax contact form. It has 13 pattern to change the background image. It also has twitter ticker in the bottom.
It is my first html underconstruction page.
It used to be sold on themeforest. But start today i want to release it for free.
You can see the   [w8_button icon_left="fa-folder-open" color="blue" url="http://www.wpamanuke.com/html/amanuke/" title="Visit Site" target="blank" border_radius=""]online demo here[/w8_button]
Features :
 JQuery
Twitter Widget Ready
Count Down Timer
Icon Social – Subscribe Form
Contact Form – Twitter Ticker
Light and Dark Template
3Color Combination with Pattern
And here is the complete free download amanuke under construction page .
[w8_button icon_left="fa-download" color="blue" url="http://www.wpamanuke.com/freebies/amanuke_html_template.zip" title="Visit Site" target="blank" border_radius=""]Download ZIP[/w8_button]